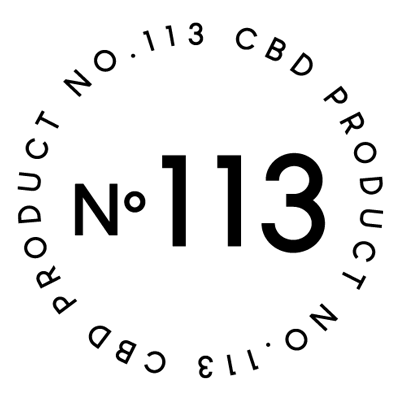 Our Story
When you ask me, "What's the most important thing in life?" …I'd tell you it's Family, Friends and Good Health!   
You've probably heard the expression, "Your Greatest Wealth is HEALTH!"
It seems that just about everyone is dealing with a health issue of one kind or another.  And, conventional medicine, along with its' side effects, just doesn't provide the solution most people are looking and hoping for. 
So, we were determined to find natural and organic solutions that are capable of improving the discomfort experienced by many due to a diversity of ailments and chronic conditions.
Our search led us directly to a Hemp based natural extract (CBD) cannabidiol that alleviates the daily symptoms of a wide spectrum of ailments.
Working directly with manufacturers, we were able to ensure that high quality ingredients are used and coupled with rigorous testing protocols, Product N° 113 was created.
We test Product N° 113 personally before making it available and everyone here uses Product N° 113 daily so you can trust in it just as we do. 
"Take care of your body. It's the only place you have to live."     
-Jim Rohn
This website offers general information about health and wellness. No information found on this website is advice and should not be treated as a substitute for advice given by a healthcare professional. The information found on this website is for informational purposes only and is not intended to diagnose, treat or cure any disease or ailment. Always speak with your physician or a healthcare professional regarding any questions you may have about a medical condition.
You should not disregard medical advice, discontinue medical treatment or delay seeking medical advice because of information found on this website, any Product N°113 materials or Product N°113 representative. No information provided by Product N°113 is intended to be a substitute for medical diagnosis, advice or treatment. If you are considering any changes in your diet or nutrition, you should consult a healthcare professional.
Product N°113 will not be held liable for any misuse of the information or services on this website. This disclaimer applies to any damages or injury which may be perceived by you to be caused by the information or services found on this website. If you believe you may be suffering from a medical condition you should seek medical attention or advice from a medical professional. Information and statements regarding nutritional supplements have not been evaluated by the Food and Drug Administration and are not intended to diagnose, treat or cure any disease.  Product N°113 does not provide any medical advice, and none should be inferred from any suggestions, testimonials or other information found on this website or any Product N°113 materials.