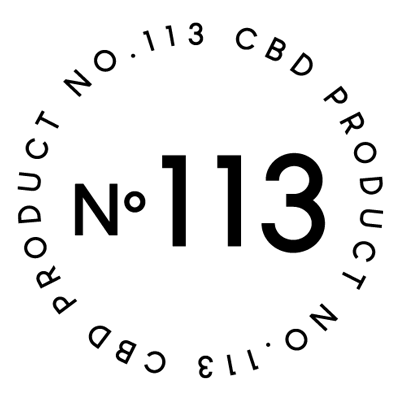 Product N˚113
Average rating:
8 reviews
Mar 21, 2023
The elbows are much better!
Things are good for me. The elbows are much better!
The CBD has been amazing in helping me sleep. I find that when I take it, my mind will silence within 10-15 min. It's really been helpful! I don't take it every night but I'd say I take it 50% of the time.

Thanks again!
Gisella
Dec 11, 2019
Excited To Try More Products From The Line... – Tincture – 350mg
"Loving this oil so far. Had one of the best sleeps ever the other night. My husband also is a fan ? excited to try more products from the line."

- Ashley
Dec 6, 2019
I'm Sold On This Product... – Pain Relief & Healing Salve – 200mg CBD
"I was having acute pain in my elbow from work. My friend had recommended the salve for inflammation and after 5mins I didn't notice the pain. I'm sold on this product!"

- Steve D.
Nov 11, 2019
I No Longer Use Advil... – Tincture – 1000mg
"I've been seeing great results using the 1000mg for my back pain and cramps. I take about .50ml when my back starts to hurt and within about 25 mins I'm feeling relief. Thank you so much, I no longer use advil!"

- Sarah
Nov 6, 2019
I Am So Pleased With The Results... – Pain Relief & Healing Salve – 200mg CBD
"My problem is in the area between the knuckle of my thumb and wrist. Besides the pain, I had no strength and things would constantly drop out of my hands.
After applying the salve the pain in my thumb was gone in 20 minutes and I regained the strength in my grip.
I'm so pleased with the results and would highly recommend Product N°113."

- Carmen Buttigieg
Nov 6, 2019
This Product Has Changed My Life... – Pain Relief & Healing Salve – 200mg CBD
"The Pain Relief and Healing Salve has made a horrible situation bearable. I have arthritic pain in both my thumbs to the point of pain meds, acupuncture and potentially losing my job. The pain was taking over my everyday life. We use our hands for everything we do and there were days that I couldn't even High Five my kids. I was at a point of not knowing what to do next and hand surgery at this point of my life was out of the question.

I started to use the Salve on a Friday night and within 24 hours I was noticing my horrible pain was subsisting and by Monday I was able to do things that prior to the Salve was painful. Over time I was taking less pain meds and no more acupuncture. I apply the Slave up to 3 times a day and within 15mins of applying I notice a difference in my pain.

This product has changed my life and would highly recommend this to everyone. I was a disbeliever that anything would help me and now I live a close to pain free day. Thank you for this amazing product."

- Amanda
Nov 6, 2019
I Would Love To Recommend This To Everyone... – Tincture – Full Spectrum – 2500mg
"I currently am taking 3 Tincture Drops nightly to help with sleep and pain. I have arthritis in my hands the worst but also in my hips and knees. At night when I lay down it feels as though there are knives being stabbed into my hips. I started to take the drops to help fall asleep and not feel the pain. I am able to not only fall asleep without pain meds but stay asleep through the night. People don't realize that our pain affects our sleep and this product has changed my life. I would love to recommend this to everyone. Thank you"

- Amanda
Oct 29, 2019
A Dramatic Difference In His Limping And Stiffness... – Pet Tincture – 400mg
"I have a 13-year old toy poodle who suffers from diabetes and arthritis – he broke his paw when he was 2 and now limps heavily when he walks due to pain. I give him this CBD oil twice a day with his insulin shot, and have seen a dramatic reduction in his limping and stiffness. Plus, it tastes like fish so he loves it!"

- Jolande Amoraal
This website offers general information about health and wellness. No information found on this website is advice and should not be treated as a substitute for advice given by a healthcare professional. The information found on this website is for informational purposes only and is not intended to diagnose, treat or cure any disease or ailment. Always speak with your physician or a healthcare professional regarding any questions you may have about a medical condition.
You should not disregard medical advice, discontinue medical treatment or delay seeking medical advice because of information found on this website, any Product N°113 materials or Product N°113 representative. No information provided by Product N°113 is intended to be a substitute for medical diagnosis, advice or treatment. If you are considering any changes in your diet or nutrition, you should consult a healthcare professional.
Product N°113 will not be held liable for any misuse of the information or services on this website. This disclaimer applies to any damages or injury which may be perceived by you to be caused by the information or services found on this website. If you believe you may be suffering from a medical condition you should seek medical attention or advice from a medical professional. Information and statements regarding nutritional supplements have not been evaluated by the Food and Drug Administration and are not intended to diagnose, treat or cure any disease.  Product N°113 does not provide any medical advice, and none should be inferred from any suggestions, testimonials or other information found on this website or any Product N°113 materials.